New Medicare Cards Being Issued April 2018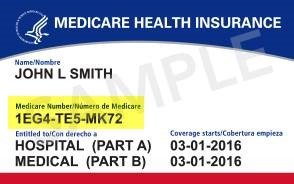 From our friends at Highmark:
As you may have heard, CMS recently released information regarding new Medicare cards being issued to all Medicare members beginning April 2018. We wanted to follow up to ensure everyone is aware of the changes and what to expect.
CMS is removing Social Security Numbers (SSNs) from all Medicare cards by April 2019. A new Medicare Beneficiary Identifier (MBI) will replace the Social Security Number-based Health Insurance Claim Number (HICN) on the new Medicare cards for Medicare transactions like enrollments, billing, eligibility status, and claim status. Beginning in April 2018, CMS will start mailing the new Medicare cards with the MBI to all Medicare beneficiaries in phases by geographic location. Please note that Pennsylvania is one of the first states on the list to have new Medicare cards distributed.
CMS will be mailing a letter with the new Medicare cards with the following key messages for Medicare Advantage and Part D enrollees:
The new Medicare card doesn't replace their plan card
The new Medicare number is needed to join, leave, or switch to a different plan
MA enrollees may be asked to show their Medicare cards for hospital services
Enrollees should destroy their old Medicare card once they receive their new card
The new Medicare Beneficiary Identifier (MBI) will be clearly different than the HICN. It will be 11 characters in length and made up of ONLY numbers and uppercase letters (no special characters).
CMS is allowing a transition period where you can use either the HICN or the MBI to exchange data with Highmark. The transition period will begin no earlier than April 1, 2018 and run through December 31, 2019. Below is an image of what the new Medicare cards will look like: