I'm Turning 26 and Need Health Insurance – Now What?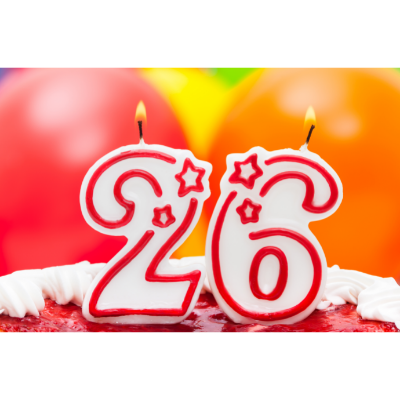 Your 26th birthday doesn't seem like much of a milestone. But it can be when you consider that you are now on your own for health insurance. (Hey -- no one said growing up is easy!) Under the federal Affordable Care Act (ACA), you can only be on mom and dad's insurance until you turn 26. But once you hit that "milestone" 26th birthday, you qualify for a special enrollment period, meaning you become eligible for your own coverage.
If you are enrolled in a parent's Marketplace (individual) health insurance plan, as opposed to a group health plan, you will still be covered until Dec. 31 of the year you turn 26. The federal deadline to enroll in an individual health plan that starts on Jan. 1 is Dec. 15, so you have to plan ahead.
It's important to know that you have 60 days before and after your 26th birthday (so, a total of 5 months) to enroll in an individual plan. Don't procrastinate, because if you miss that window, you may have to go without health insurance until the next open enrollment period. That can be up to 10 months, depending on when your birthday falls.
Keep in mind that you are eligible to stay on your parents' insurance plan until you are 26 even if you:
Are married

Have or adopt a child

Are not living with your parents

Are attending school

Are not financially dependent on your parents

Are eligible to enroll in your employer's health plan (Your parents may not be fans of this option!)
What are my options?
If you're aging out of your parents' plan, there's no reason to panic. You may have several options, depending on your situation:
Job-based coverage. This is the most obvious: If you have a full-time job, you're probably eligible to enroll in your employer's health care plan.

School-based coverage: If you're a full-time student, you may be eligible for affordable coverage through your college or university.

Individual coverage: As mentioned above, plans are available through your state's Marketplace (in Pennsylvania, that's known as

Pennie

), or federally through

HealthCare.gov

.

Medicaid or CHIP: If you aren't making much money, you may qualify for Medicaid, which is low- or no-cost health insurance. If you're pregnant or have a child, you may qualify for

CHIP

(Children's Health Insurance Program), a similar low-cost option that

provides low-cost coverage to families that earn too much money to qualify for Medicaid but not enough to buy private insurance.
Did you know?
Different states allow for extenuating circumstances. In Pennsylvania, for example, disabled adult children may be covered beyond age 26.
An employer may – but is not required to -- extend health coverage to adult children until age 30. Adult children are eligible if they are unmarried, have no dependents and are a Pennsylvania resident or are enrolled as full-time college student, according to the Pennsylvania Insurance Department. And you are not permitted to be covered by any other health insurance policy or Medicaid.
Full-time Pennsylvania college students whose education is interrupted by military service in the Reserves or National Guard may extend their health care benefits as a dependent of their parents beyond the terminating date equal to the length of their deployment. So, if you serve a two-year deployment, you would be eligible to stay on your parental insurance plan until age 28.
What else do I need to know?
Don't forget about vision and dental coverage. Taking care of your oral and vision health is just as important as an adult as it was when you were a kid. Oftentimes, your employer will offer these ancillary services, in addition to medical coverage, with a group health plan.
But if you are looking at obtaining private insurance, you'll need to shop for these services separately. Unlike medical insurance, there is no special enrollment period for dental and vision coverage, so you can enroll in a dental or vision plan at any time.
Small group health insurance plans (less than 50 employees) are required to include dental and vision services for children until they turn 19 as part of the 10 essential health benefits that are guaranteed under the ACA. Depending on the insurance carrier, some dental and vision plans may allow you to stay on a parent's plan until age 26.
Oh, and by the way, happy birthday!