Is Pet Insurance Really Worth It?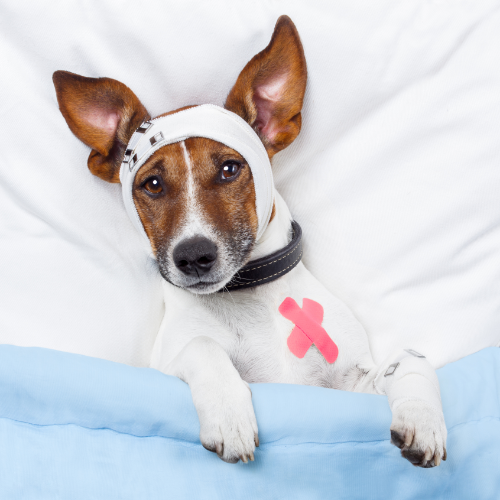 If you own a pet, you've no doubt thought about it: Should I have pet insurance? Americans spend tens of billions on their pets every year in food, toys, treats, clothing -- even Halloween costumes. A 2020 survey by the American Pet Products Association found that almost 70% of U.S. families own a pet of some kind. Yet that same survey found that just 5% have a pet insurance "pawlicy" (sorry, we couldn't resist!).
Just like with humans, the cost of a pet's health emergency can cost hundreds or thousands of dollars. When a KIG co-worker's 2-year-old King Charles spaniel recently needed repeated surgeries to the tune of almost $2,000, it made us wonder: Is pet insurance worth it?
Now, based on her experience, she encourages people to at least look into their options. "You don't think you need it … until you do. I wish I had it," she said. "It makes you more comfortable making the choice to get medical care for your pet if you have insurance."
And if your pet does have an emergency, vets almost always requirement up front because, let's face it, you can't sue a dog or repossess a cat if their owner doesn't pay the bill.
What it covers
Pet insurance is generally broken into three types of coverage, from most expensive to least expensive, according to the North American Pet Health Insurance Association (no, we didn't know there was such an organization either!):
Accident and illness:
H
elps pay for vet bills for unexpected incidents, such as poisonings and common illnesses like ear infections. May also cover expenses such as lab tests,
diagnostic tests,
surgeries, hospitalization, prescription medications, and emergency care.
Average monthly cost (2021): $49.50 for dogs/$28.48 for cats
Wellness:
Covers medical expenses for wellness exams and tests, flea and heartworm prevention, and vaccinations. Some companies don't sell wellness coverage as an individual plan.
Cost per month: (2021): $16-$26
Accident only:
Covers certain
medical expenses in the event of an accident. Coverage might include diagnostic tests, surgeries, X-rays, hospitalization, prescription medications, and emergency care.
Average monthly cost (2021): $18.17 for dogs/$11.13 for cats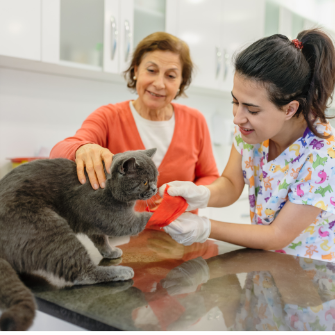 Depending on the plan, pet insurance may cover:
Routine care

Accidents, illness and treatment for disease

Cancer and chemotherapy treatment

Surgery, hospitalization, and nursing care

Lab work and diagnostics

Medications

Alternative therapies

Chronic and recurring conditions (allergies, diabetes, hyperthyroidism)
Wh

at it doesn't cover

There are also things that some pet insurance companies will not cover, or
types of animals that they will not cover. These conditions include, but are not limited to:
Cosmetic procedures (tail docking, ear cropping, declawing)

Veterinary fees related to pregnancy or breeding

Orthodontic procedures

Behavioral classes

Vitamins, supplements, pet foods, personal care items
Some pet insurance policies do not cover genetic or breed-specific conditions, so it's wise to do some research. Did you know that Pugs have a seven times higher chance of developing hip dysplasia than poodles? And that English setters are particularly susceptible to thyroid conditions? Or that a Norfolk Terrier has a 5.1% chance of having a cardiac event, higher than any other breed? How about this: Shar Pei's can be afflicted by a common genetic disease called Shar Pei Fever. So says the Orthopedic Foundation for Animals.
Some policies also have an age limit, and pet insurance rarely covers pre-existing conditions. Some even include a waiting period of between 10 and 30 days before coverage begins. What's covered and what's not is dependent on the insurance carrier you choose and the policy you choose with that carrier. Insurers consider several factors when determining the cost and structure of a policy. These may include a pet's height and weight, breed, age, location, term and length of the policy, and reimbursement rate.
How it works
Most policies reimburse the pet owner after they incur an eligible expense. You pay the vet directly, then submit the bill to the insurance company for reimbursement. Once the bill is reviewed and approved, the amount for reimbursement is based on the options you selected for your policy, such as:
Maximum annual payout: The total amount the policy will pay for all claims in a policy year.

Reimbursement percentage: The percentage of the bill the policy will pay after deductible.

Deductible: The amount you are responsible for paying before reimbursement begins.
Before you commit ...
A few common requirements and exclusions can be found in the fine print. For example, some insurers require an exam by a vet or at least health history records. They also may require pets to be kept up to date on exams and common vaccinations, such as canine influenza, kennel cough or parvovirus. And, interestingly, some policies that pay for dental exams and cleanings do not cover disease of the teeth and gums.
Here are links to some good resources on pet insurance:
While KIG does not deal with pet insurance, it's something we considered adding as a voluntary benefit for our employees, after hearing about our employee's ordeal. While individuals can get their own pet insurance, policies can be cheaper through a group plan. (The dogs making a cameo below belong to the author.)