Required Employee Benefits for Start-ups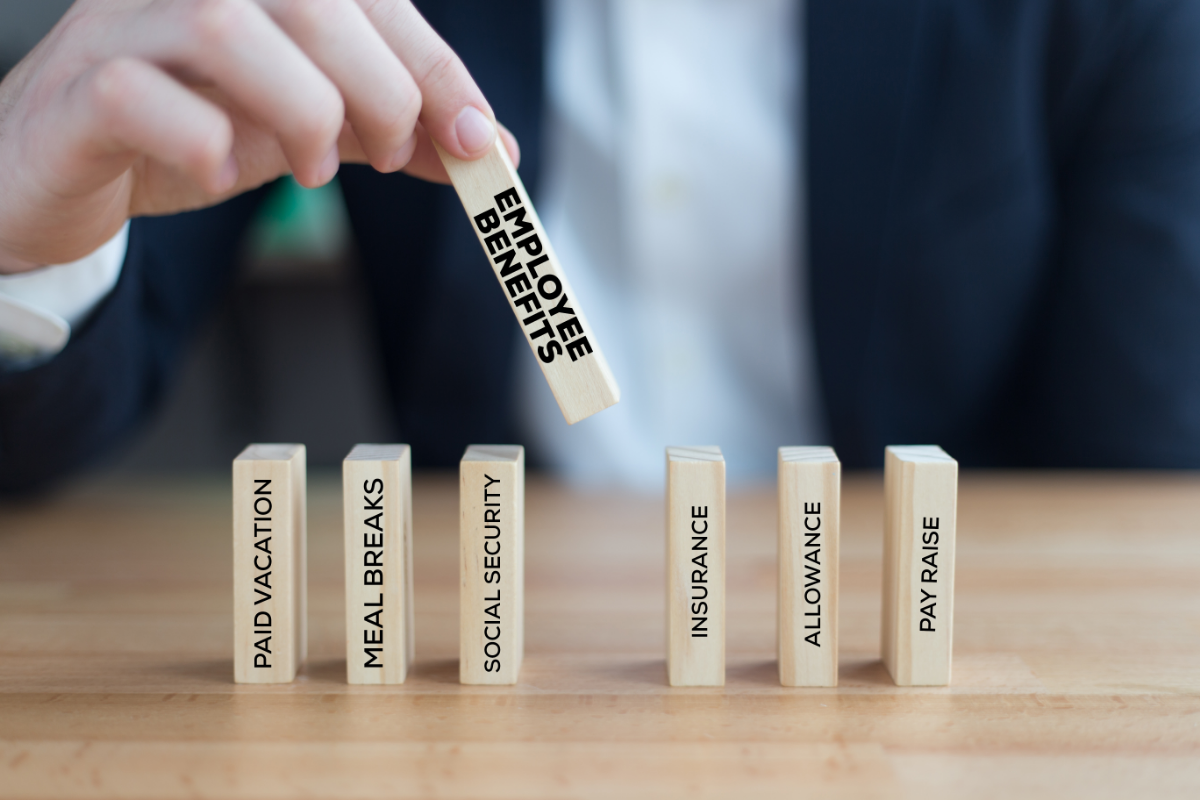 We already answered the What is an employee benefit? question, but we know this topic can be a bit...sticky. We want you to get off on the right foot, so let's explore which benefits you are legally required to provide to employees.
Unemployment Insurance
Regardless of the size of your company, you are required to have unemployment insurance to protect an employee if they are unable to work through no fault of their own. Both part and full-time employees are entitled to receive unemployment benefits should they need it. Employers provide this insurance by paying into their state's unemployment fund. The amount that an employer contributes varies state-by-state and by employer status, but is often determined by a combination of these factors: the base rate, the employer's experience rating, and additional assessments.
The base rate is a common rate that applies to all employers. The rate is set by the state and is calculated based on the amount of money available in the state's fund compared to the total amount of wages paid out by the state to cover unemployment wages.
An employer's experience rating allows for variations of an employer's assigned contribution rates based on the unemployment risk of the employer. Employers who have higher rates of unemployment can expect higher contribution rates, while employers with a stable workforce and low unemployment rate can expect lower contribution rates.
If a state's unemployment fund is depleted and cannot cover projected unemployment distribution, then the state may increase the employer's tax rate to help replenish the fund.
Talking with a CPA or payroll provider can help you better understand your state's specific criteria as well as employer requirements of unemployment insurance.
Workers Compensation
Workers' compensation can cover an employee's medical expenses and a portion of lost wages if the employee becomes injured or develops a serious occupational illness and can't work for an extended period of time. What is covered by workers compensation usually varies state to state.
For example, in Pennsylvania, workers' compensation offers unlimited coverage of medical expenses, but lost wages are not fully covered. Instead, each week Pennsylvanians can receive 66.33% of their average weekly wage up to the maximum amount of $1,139 for no more than 104 weeks, unless the injury results in a disability determination. See how this can get tricky?
Again, coverage varies state to state, and the way your business is able to get coverage may also vary. In most states, employers have the option to provide workers' compensation through a private insurer, a state fund, or by self-funding.
Private Insurer
This is the most common option. Employers who offer workers' compensation through a private insurer pay a premium to the insurance company, and the insurance company provides workers' compensation benefits to employees who are hurt or ill and are unable to work. Private insurers allow employers to select pre-customized or fully customizable plans that meet their needs.
State Funded
In some cases, new businesses may choose state funded insurance programs if they are struggling to find a private insurer that will cover them. This is more common among employers where employees have a high risk of injury, like manufacturing and construction. If you opt for state funding, there are two types of state funded workers' compensation depending on your state.
Competitive State Funded
In competitive programs, the state competes directly with private insurance companies. Employers and self-employed individuals may receive insurance from either the state fund or a private insurer. Your unique needs as an employer will determine whether a state funded or privately insured option is best.
Monopolistic State Funded
Monopolistic state funds require employers to obtain Workers Compensation through the state or identify as self-insured. Monopolistic state funds have their own rules and regulations regarding workers' compensation that are separate from the National Council on Compensation Insurance (NCCI).
Below, a map shows states that offer competitive state-funded workers' compensation and those that have monopolistic state-funded programs. Competitive state-funded programs are available in: AZ, CA, CO, DE, HI, ID, KY, LA, ME, MD, MN, MO, MT, NM, NY, OK, OR, PA, RI, SC, TX, and UT.
States with monopolistic funds are: ND, OH, WA, and WY.
States that are white do not have state-funded Workers Compensation programs.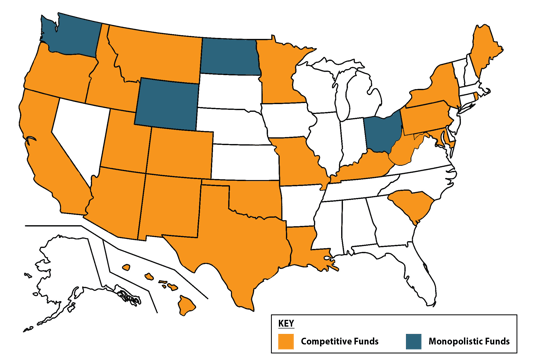 Self-Funded
Self-funding may be a good option for established businesses that are larger and more financially healthy. Self-funding options usually begin with companies paying approximately $500,000 per year in premium; this is a significant financial commitment for any business and especially younger companies.
Providing workers' compensation insurance is essential and is required by law. If you do not provide it, and an employee is injured on the job, the employee can open a lawsuit against you and may try to sue for unsafe or unhealthy working conditions. Workers' compensation insurance also covers legal expenses if an employee decides to sue for damages caused by occupational injury, illness, or accident. Under workers' compensation law, 1099 contractors are often treated like W-2 employees and are required to be covered by workers' compensation. Their payroll may be added during an audit unless they are covered elsewhere, like through their own private insurance policy.
USERRA
The Uniformed Services Employment and Reemployment Rights Act (USERRA) requires business owners to provide applicable employees with time off and/or reinstatement of prior employment following military service. USERRA covers all categories of military training and service and is most often applied to National Guard and reserve military personnel. USERRA also applies to active members of the military "upon release from active duty."
---
We know some of these are benefits that don't quite look and feel like benefits offered on the private market. But if we maintain our definition that a benefit is anything outside of earned wages that provides or intends to provide a benefit to the employee, then these fit the bill.