Huddling 6 Feet Apart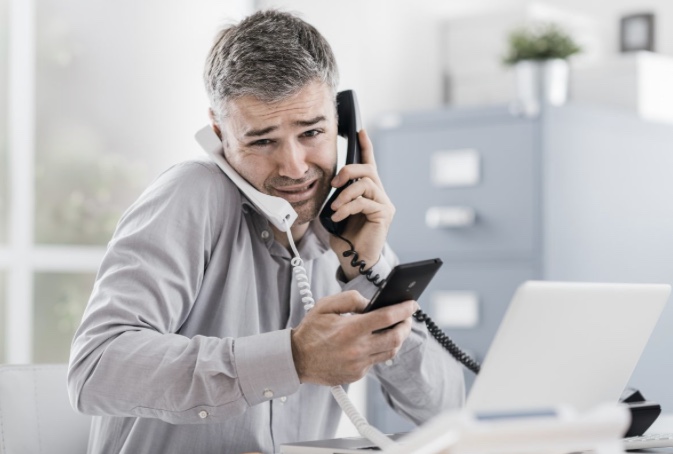 For a few months now we've been having daily morning huddles where the whole KIG team meets and we each list our top three priorities for the day. Because we hold this discussion first thing in the morning, it is imperative that a positive and enthusiastic tone is set. The goal is to have an efficient, but meaningful discussion with the team.
With all of us working from home due to COVID-19, we've had to transition from in-person huddles to remote huddles. And while we are lucky to be living and working during the [current] peak of technology, we are still constantly subjected to inherent technical challenges during group calls and online meetings. If you've attended any type of video chat in the past few months, you probably have your own Zoom horror story.
At times, these challenges can create a feeling of awkwardness and can negatively impact how the meeting is perceived. Whether you're having a conference call or doing a Zoom or GoToMeeting video conference, a lot of the challenges are the same. Here are the top five challenges we've encountered at KIG:
Lack of visual cues. When having an in-person discussion, it is easy to tell when someone is done talking based on the change in their body language or facial expression. During a call, you can't see these signals. Are they done talking? Did they cut out? Are they swearing under their breath? You can't tell for sure.
Slight delays in conference and video calls.

Unfortunately, most discussions don't consist of a few people passing around a talking-stick waiting for their turn to speak. Most conversations involve a lot of talking over each other (unintentionally), quick topic changes, and going off on tangents. Slight delays in transmission can make the exchange feel very unnatural. By the time someone hears what was said and responds, someone else may be talking about a completely different topic.
Forgetting to unmute yourself when you're talking.

There have been many times where one of us will start talking and someone has to say that they can't hear us. This can really ruin the momentum of the discussion or can cause someone to take what you're saying less seriously.
Forgetting to mute yourself when you're

not

talking.

I love kids, but I don't want to hear them screaming and crying at 8:30 in the morning because someone forgot to mute their microphone. But honestly though, I typically feel like screaming and crying when I'm up before 10 a.m., too.
Unavoidable tech issues.

(Like not being able to log in and other glitches.) This is truly just the fault of technology, but steps can be taken to prevent these issues from being problematic and disruptive.
Because everyone was still learning how to navigate the tech after switching to remote huddles, these glitches were forgiven or even considered funny; but, at some point, we knew they would be considered frustrating and unprofessional. So, what should we do?
Here at KIG we have 31 Fundamentals that are the foundation for our unique culture. We all swear by these fundamentals and try to live and work by them every day. Fundamental #14 – be relentless about improvement – is one that we focus on often.
After one poorly executed huddle, we applied fundamental #14 and came up with a few simple steps to streamline the morning huddle:
Call in a few minutes early. If an unforeseen tech issue occurs, you may need to try to call in again or use another device. Because you figured this out a few minutes before the official start, you still have time to solve the issue and join in on time.
Come into the call already having your three priorities decided.

This way, you won't get flustered and have to come up with things on the spot.
Assign a call "leader," who each time will start and wrap up the call.

They will be the one to end the small talk to make sure we get started on time and will sum things up at the end before we all hang up. The leader adds cushion; it would be odd if we called in and waited in silence until the start time, had

person A

–

G

share their priorities, and then just hung up. They keep things flowing in a natural way.
Create a sharing order that is the same every time. Every morning,

person A

knows that they are the first to share. After each person is done sharing, they cue the next one in line by saying something like, "what about you,

person B?" This helps avoid awkward silence.
These may seem like little changes, but since implementing them, we've cut the average time of our calls by 50%. Knowing the gist of what you're going to say spares everyone from a lot of "ums" and "hmms." Having an order set in place also helps with the issue of muting; when you know you're going to be up next you'll make sure to unmute your phone. (I've noticed that being put on the spot can make you more susceptible to forgetting to unmute.) And, you can confidently mute your phone when you know that you're done talking for the time being.
Having these guidelines have made our huddle more efficient but has also made it feel like more of a natural, in-person conversation with less awkwardness and frustration. How could you and your team use our example and translate it into your own experiences? How can you and your team be relentless about improvement?