Kayleigh LeVan: Internship Journal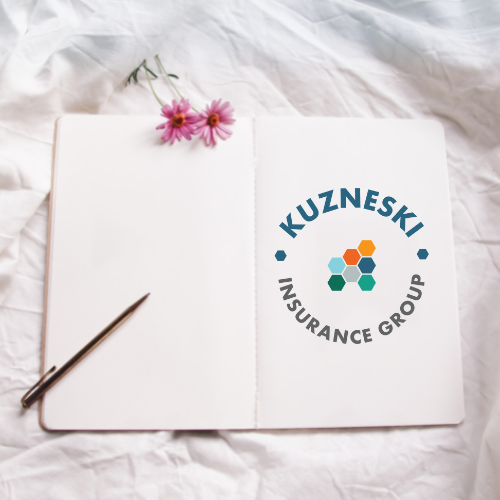 Kayleigh LeVan, HR Intern at KIG, in her own words ...
Week 1: May 23-27
In February I attended the IUP Spring Career Fair and set out to find a job that would help me better understand my new profession, as well as create connections with individuals and organizations in my field. After the interviewing process with multiple organizations, Kuzneski Insurance Group was my top choice, and luckily Laurie, Andy, and Janice saw me as a good fit, too.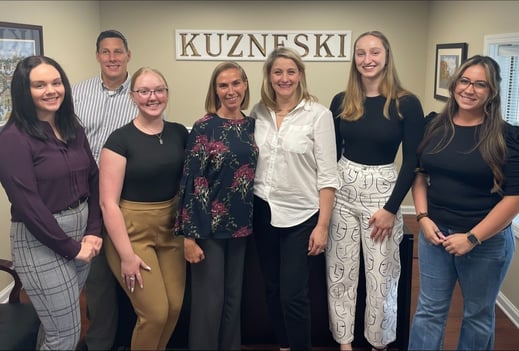 After graduation (and graduation festivities like vacation and visiting my family), I started full time at KIG as an HR intern. Monday before walking in the doors I was feeling a combination of nervousness and excitement, but by 10:30 a.m., I knew I had nothing to be nervous about. The first day consisted of introductions, setting up all the accounts required, and having lunch as a team while learning the Kuzneskis' family business history. Tuesday was a little unexpected. We arrived at the office to find the power out. Jason gathered all the interns and took us to a local coffee shop to go over some media training while getting breakfast. The power came back on, and we had a Lunch-and-Learn with food from Olive Garden. Thank God Laurie and Andy understand what it's like to be two weeks post-grad, because they have provided us with practically every meal in the first few days! Wednesday we predominately focused on setting up all of our accounts and programs our organization uses. On Friday I was informed that next week we will be getting more responsibility within our roles. (Now the fun begins!)
Week 2: May 30-June 3
We had a four-day workweek due to the Memorial Day weekend. As the entire caught up from missing Monday, I had modules and training videos to watch. As a human resources intern, it is extremely important for me to be knowledgeable of policies in the office, with employers and employees, and regulations and laws the DOL has implemented. On Wednesday, I took a brief break from modules to learn about benefits. Even though the training modules were tedious, I was able to keep up with our meeting with the base knowledge I received through training.
Thursday was an action-packed day (for me, at least; the rest of the office would have thought it was child's play). I had my first L-10 meeting with our staff, had a meeting pertaining to onboarding employees, and made offer letters for clients. If I thought modules were tedious, I should have waited a day to see how tedious formatting letters correctly is. As the week is wrapping up, we are collaborating on a few content ideas for social media in the upcoming weeks. An event I am excited for is Voodoo's happy hour fundraiser next Friday. There is a guest bartender from 5-7. Surprise, it's our very own Laurie Kuzneski! We bonded over serving/bartending life in my interview, so I know she will kill it.
I would say the biggest thing I learned this week is benefits and the importance of making our clients feel heard and cared for. When dealing with insurance, we are helping people through a lot of technicalities, requiring understanding and empathy.
Week 3: June 6-10
Back to the office after a weekend trip to Pittsburgh, I'm finally getting used to working in an office (I still fight the urge to yell "corner!" while entering the kitchen -- a throwback to my waitressing days). On Tuesday, I got the opportunity to work in the HR and benefits programs on my own, and I'm slowly starting to grasp the processes without having to reference my notes (or my office mates). For any student learning a new skill, or job, takes time and patience. While picking an internship, I made sure I chose an organization with a culture that values learning and understanding, while creating an environment where a person would feel comfortable growing and being curious. (In fact, being curious is required.)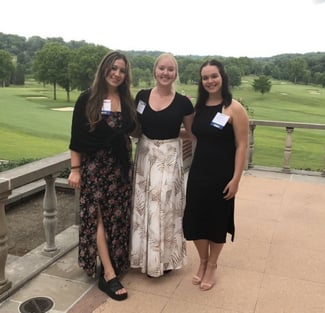 Insurance is tough work, so we must find ways to make it fun. While slowly taking my HR training wheels off, the interns also attended the IEE Summer Social at a gorgeous golf course in Pittsburgh. Andy was our designated driver, so I indulged in a couple of glasses of wine and had a great time networking with business leaders in the Pittsburgh area. This week was a busy networking week at KIG: We attended the Indiana County Chamber of Commerce After Hours on Thursday, catered by Romeo's. How did they know I'm always up for a cocktail and appetizer?

Something that I have been learning is the importance of note-taking, asking questions, (even if you "feel" like you should know some of the terms already) being curious of processes, and checking some of Jason's blogs consisting of acronyms and pointers for a successful internship.
Week 4: June 13-17
Four weeks into my internship at KIG, and time flies when you're having fun! This week the interns took over the office while our higher-ups traveled to Nashville for a conference. Miranda, Sarina, Amelia, and I had our own fun here in Pennsylvania. We went out to lunch and learned about each other's hobbies and interests. We learned how to balance exercise balls, where the toaster is, and how to sort the mail.

All jokes aside, I learned how to correctly time track employees' hours and how to complete COBRA forms and why it is important. Four weeks in, and I am now fluent in templates and making offer letters as well as documenting new employees into systems. I have posted and refreshed jobs in JazzHR and worked in Benefix to renew organizations' insurance for new and existing employees. Did I mention I have screened many applicants for three different job titles? Looking back, I have learned immensely within these four weeks.

The biggest thing I learned this week is how to create benefit notices for companies. Among my colleagues I am an insurance newbie, but my parents are extremely impressed with my new knowledge!
Week 5: June 20-24
Our colleagues returned from Nashville, and the office is lively again. On Monday, I continued working on yearly benefit renewals for clients and am noticing that I may not be as tech savvy as I once thought. One vital piece of information that I would share with future interns is to not let the initial fear of not knowing how to do a project hinder your ability to listen and learn. The first client I renewed through Ease and Benefix had me close to a breakdown, but after that I was able to renew clients' rosters in no time. In other news, I received a book called "What the Heck is EOS? A Complete Guide for Employees in Companies Running on EOS," which explains entrepreneurial operating systems and the vital role that each person plays within a company.
On Tuesday and Wednesday, I spent most of my time working with a big client of ours. I met with my colleagues and collaborated on job advertisement ideas, the language of job descriptions, and screening applicants. I had the opportunity to attend a meeting with a client (not just attend, but collaborate and offer my input on projects), which helped me put into perspective my growth within my field. Thursday, I attended our weekly L-10 meeting, which frankly blows my mind every time. My colleagues are quite knowledgeable and encouraging about questions (I always have so many). Because health care and insurance are complex topics, we have resources to get second opinions of an issue, like Mineral. Speaking of Mineral, I am alllmosssstt done with my module training videos! Ask me anything about OSHA -- I dare you. 😉

The biggest thing I learned this week is, when a new employee is hired, add them into your systems immediately. It makes everyone's job easier and removes the chance of losing this important data.
Week 6: June 27- July 1
Week 6 in the books! It's amazing to review previous journal entries and see how my knowledge has been implemented into my everyday life at KIG. Monday, I attended a seminar for a client that focused on recruiting and retention of employees. This was a lovely opportunity to understand demographics and different perspectives from employer to employee. On Tuesday, I had a meeting with a client as well as our HR team to debrief the meeting I attended and what projects to focus on this week. I spent the rest of the day screening applications for clients. Be patient if you send a resume to an employer, because the screening process is rigorous. I probably know four job descriptions by heart now.

Wednesday, we had a Lunch and Learn meeting to demonstrate an app that pertains to benefits that could save my client services colleagues time throughout their day. Thursday consisted of an L-10 meeting with the Client Services team. Friday we are pitching marketing ideas to Claire and going over our thoughts on the internship program this far. Anyhow, happy Friday and happy Fourth of July!

The biggest thing I learned this week was a piece of advice: "If you're going to hoot with the owls at night, you better be able to soar with the eagles in the morning." 😉