Medicare 101: What You Really Need To Know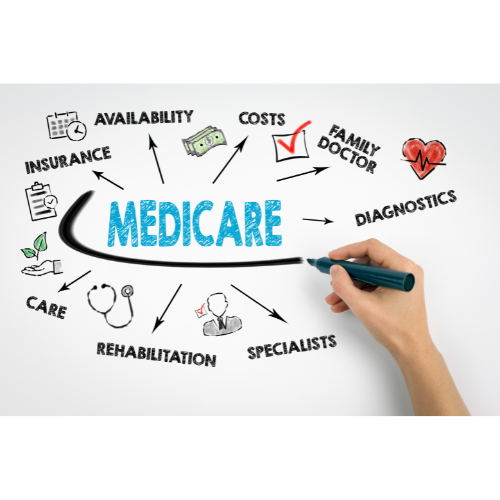 For better or worse, I'm nowhere near retirement age. But one day it will apply to me, and I didn't want to miss my chance to ask Vickie Davidson, Kuzneski Insurance Group's Medicare guru, for a crash course on how Medicare works and what advice she has for people who are reaching that magical age. After all, she's been dealing with Medicare plans for nearly 20 years!
"It's a whole other creature," she acknowledged as I took a deep breath.
What is Medicare?
For those who are new to the concept of government-sponsored Medicare (like me), there are 5 aspects to it:
Part A is

hospital insurance

and helps cover inpatient care in hospitals, skilled nursing facility care, hospice care, and home health care. For those who paid into Medicare while they worked, Part A is free.

Part B is

medical insurance

and helps cover services from doctors and other health care providers, outpatient care, medical equipment (wheelchairs, walkers, hospital beds) and preventive services (screenings, shots/vaccines, and wellness visits).

For most beneficiaries, the government pays about 75% of the Part B premium, and the beneficiary pays the remaining 25%. If you're a higher-income beneficiary, you'll pay a larger percentage of the total cost of Part B based on income. Here's a calculator to determine you monthly Part B premium.
Together, Parts A and B are known as Original Medicare.
Part D is a

prescription drug plan,

which, naturally, helps cover the cost of prescription drugs.

Wait, you can't fool me, you skipped Part C! That's known as

Medicare Advantage,

and we'll get to that later.

Lastly, there's

Medigap

, otherwise known as

Medicare supplemental insurance

, and you

must

be enrolled in Parts A and B to be eligible. (We'll get to that, too.)
Note: You cannot have both a Medicare Advantage plan and Medigap coverage.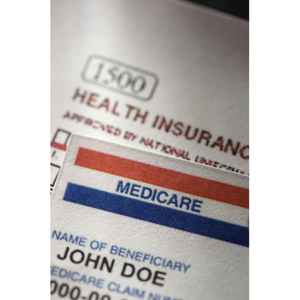 When am I "Medicare eligible?"
You are eligible at retirement age (65), or if you've had Medicare disability for two years. If you're Medicare eligible and on your employer's group health plan you may -- but are not required to -- go on Medicare. Someone who continues working past 65 can enroll in Medicare, which can be cheaper than a group health plan. But an employer cannot legally force someone off of a group health plan, Vickie stresses.
If you're eligible but have health insurance coverage through a spouse's plan, you may want to enroll in Medicare Part A because it usually has no premium but waive Part B coverage until your spouse retires to save money on premiums. Part A is free for most people because they paid payroll taxes toward Medicare while they worked. (Finally – your hard work is paying off!)
Once you're both retired, it's a good idea to have both Parts A and B, Vickie advises: "Some people choose just A or B. In my opinion, that's a bit foolish, because Medicare only pays about 80%. If you have a $500,000 surgery and you're on the hook for 20%, you're out a whole lot of money."
You need both Parts A and B to be eligible to enroll in a Medigap plan or a Medicare Advantage plan. It is best to set these up to coincide with when your group health insurance coverage ends.
When can I enroll?
There are specific times you may enroll in Medicare, and coverage always starts on the first of the month:
Initial enrollment period: This is when you turn 65. Actually, it lasts for seven months – starting three months

before

your birthday and ending three months

after

the month you turn 65. If you have a July 15 birthday, that would be April 1 until the end of October. However (there are a lot of "howevers" with Medicare), even though

you have the whole seven months to get Parts A and B, you only get the first two months to enroll in Part C or Part D without penalty. If you enroll after the two-month mark, you'll face late enrollment penalties for Part D.

Vickie advises setting up Part B coverage before retirement so it is effective on your last workday to avoid a gap in coverage.
This also applies if you are on Social Security Disability Insurance (SSDI). Once you reach the 25th month on SSDI, you are automatically enrolled in Medicare, regardless of age. The first 24 months is considered a waiting period, and any previous months spent on SSDI count toward that 24 months.
Annual election period: Oct. 15-Dec. 7 each year. The new coverage goes into effect Jan. 1

. If you already have Medicare, this is your chance to make changes. If you're not making changes to your plan, you do not need to do anything; your plan will automatically renew, Vickie says.
Information about next year's plans becomes available in early October.
S

pecial

election

period: This applies to you once you reach 65 and you've had a "qualifying life event," such as losing health coverage because you quit a job, you're fired or you retire. You have two months after the month your coverage ends to enroll. So, your retirement party is on March 15 (lucky you!) and your coverage ends March 31. That means you have until the end of May to enroll.
Vickie adds an asterisk: If a plan has a 5-star rating from the Centers for Medicare & Medicaid Services, you may change to that plan any time between Dec. 8 and Nov. 30, which is nearly all year. These CMS ratings change every year.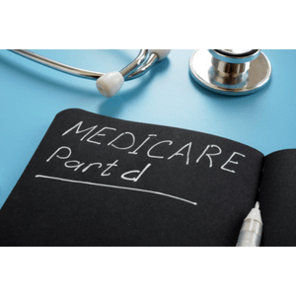 Part D - Prescription Drug Coverage
One of the most important things to know here, Vickie says, is that if you do not enroll in Part D (prescription drug coverage) when you become eligible, it's kind of like playing Russian Roulette. Why? Because, if you decide later to enroll, you will be retroactively penalized for each month that you did not have creditable coverage after becoming Medicare-eligible -- even if you do not have any prescriptions. Credible coverage is defined as health coverage that is "at least as good as what Medicare provides."
Medicare calculates the penalty based on the national base beneficiary premium, which in 2022 is $33.37. Say "Susie" waits 24 months after she is Medicare-eligible to get Part D insurance. When she signs up for it, she'll be charged an extra $8 per month for as long as she has a Part D plan going forward (24% of $33.37) because she waited 24 months to get coverage. If the national base beneficiary premium increases, your penalty amount will, too.
"The penalty can be significant, depending on how long you go without it," Vickie warns. "If you don't get it now, you're going to pay for it for the rest of your life when you do need one."
Someone who turns 65 and has credible group health coverage through their employer will not be penalized if they decide to go on Medicare.
If it wasn't clear, Vickie strongly advocates getting a Part D plan, especially because some plan options cost less than $10 per month, she says.
Note: There are late enrollment penalties for Parts A and B as well. For Part A, it's 10% of your monthly premium for two times the months you were not enrolled without credible coverage. For Part B, it's 10% of your monthly premium for the months you were not enrolled without credible coverage.
Medicare Late Enrollment Calculator
Part D doughnut hole
You may have heard of the "doughnut hole," or coverage gap, as it relates to an individual Part D plan. (Group Medicare plans do not have a doughnut hole.) You enter the doughnut hole when your total drug costs – what both you and the plan have paid – reach a certain limit ($4,430 in 2022).
If you reach the coverage gap, you then pay applicable copays and 25% of the cost of drugs until your costs total $7,050 (for 2022). If you're unfortunate enough to rack up more than that amount, you then automatically enter "catastrophic coverage" where you pay the greater of 5% or $3.95 for generic drugs and the greater of 5% or $9.85 for brand-name drugs.
"Most people don't hit the doughnut hole," Vickie says. "Cancer patients, heart patients, and diabetics hit it every time because in those instances there's often not a cheaper generic drug available."
What is

Medicare Advantage?

This is a Medicare-approved plan from a private insurance company that offers an alternative to Original Medicare for health and drug coverage. (Think UPMC, Aetna or United Healthcare.) These "bundled" plans include Parts A and B, and usually Part D. They may also offer dental and vision coverage.

"Think of Medicare Advantage as all-inclusive: It's going to have medical, prescription, vision, and most of them are going to have dental," Vickie says. "When you have a Medicare Advantage plan, your insurance carrier has a contract with Medicare. You have one card, and everything gets billed through the insurance carrier. You will have to see a network provider for the highest level of coverage."

Medicare Advantage open enrollment is Oct. 15-Dec. 7 for a Jan. 1 effective date.

Cost: Medicare Advantage can cost anywhere from zero to $300 per month, depending on your needs. All Advantage plans have copays, and the biggest are for hospitalizations and outpatient surgeries. The devil is in the details here: Copays can be flat or per-day, depending on the plan. So, a hospital stay may cost $250 for the first five days or $250 for the entire length of the stay. "These are important distinctions," Vickie says. "The premium is not necessarily higher for a plan with a flat copay. Some people have the mentality 'if it costs more, it's a better plan.' That's not always correct."
What is Medigap?
A Medicare Supplement Insurance (Medigap) policy can fill in the "gaps" that are not covered by Original Medicare, such as copays, coinsurance and deductibles.
"Think of Medigap as an a la cart plan for Medicare. It's medical only, but you have to pick up a prescription plan (Part D) with it," says Vickie. "An advantage of Medigap is that there is no network. You can go to anybody, anywhere, as long as they accept Medicare. So Medigap works well for those who travel extensively and someone who doctors a lot," like someone who has a chronic condition and needs frequent MRIs or blood work.
It's worth pointing out, though, Vickie stresses, that any health plan will cover a true emergency, such as a heart attack or broken bone.
Open enrollment for Medigap is for six months, starting the first month you have Part B coverage. During this period, enrollees are not subject to a health history review. However, (there's that word again!) if you wait more than six months, you could be subject to medical underwriting, and an insurance carrier could decline to pay for out-of-pocket costs for pre-existing conditions or refuse to cover you at all.
Cost: Medigap plans get more expensive as you age. The average premium for Medigap plus a prescription plan is $150-$175 per month at age 65, Vickie says. "Because there's no network, the benefits have to be the same, no matter which carrier you use. So, in my opinion, it makes sense to get the best rate you can find."
What's right for me?
"You have to look at your higher-cost items, like hospital visits, outpatient surgery, and nursing home stays. Those are the kinds of things I tell people," Vickie says.
She used this example: The difference between a Medicare plan that costs $38 a month and one that costs $81 per month is $516 over a year. But the cheaper plan may carry a $325 copay for a hospital stay, and the more expensive one may charge $275 for a hospital visit, so unless you plan to frequent the hospital 10 times in a year, you would be better off with the cheaper plan!
Look, too, at which prescription drugs you take to see which Part D plan best fits your situation. One way to do this is to compare the costs of your prescriptions on each plan option, which is something that Vickie often does for her clients.
"Obviously, none of us knows what's coming around the corner, but think about how you typically doctor, because copays are the only thing that are changing in these plans. What do you typically do in a year? If you can't make up those copays, chances are the lower-cost plan will work for you because that's money in your pocket."
Here are some great resources to learn more:
Centers for Medicare & Medicaid Services
Let us connect you with Vickie – she'd be happy to talk to help you through the Medicare maze! But before anyone talks to Vickie – or any agent for that matter – about Medicare, they must first sign and date a "scope of appointment" at least two days in advance. This step is required by the Centers for Medicare & Medicaid Services to protect seniors from scams and to ensure that they make informed decisions. This helps focus the conversation only on the Medicare products that the customer is interested in.
We do not offer every plan available in your area. Any information we provide is limited to those plans we do offer in your area. Please contact Medicare.gov or 1-800-MEDICARE to get information on all of your options.