A Lot in Common: Kuzneskis Pledge Support for Coffee Bar Fundraiser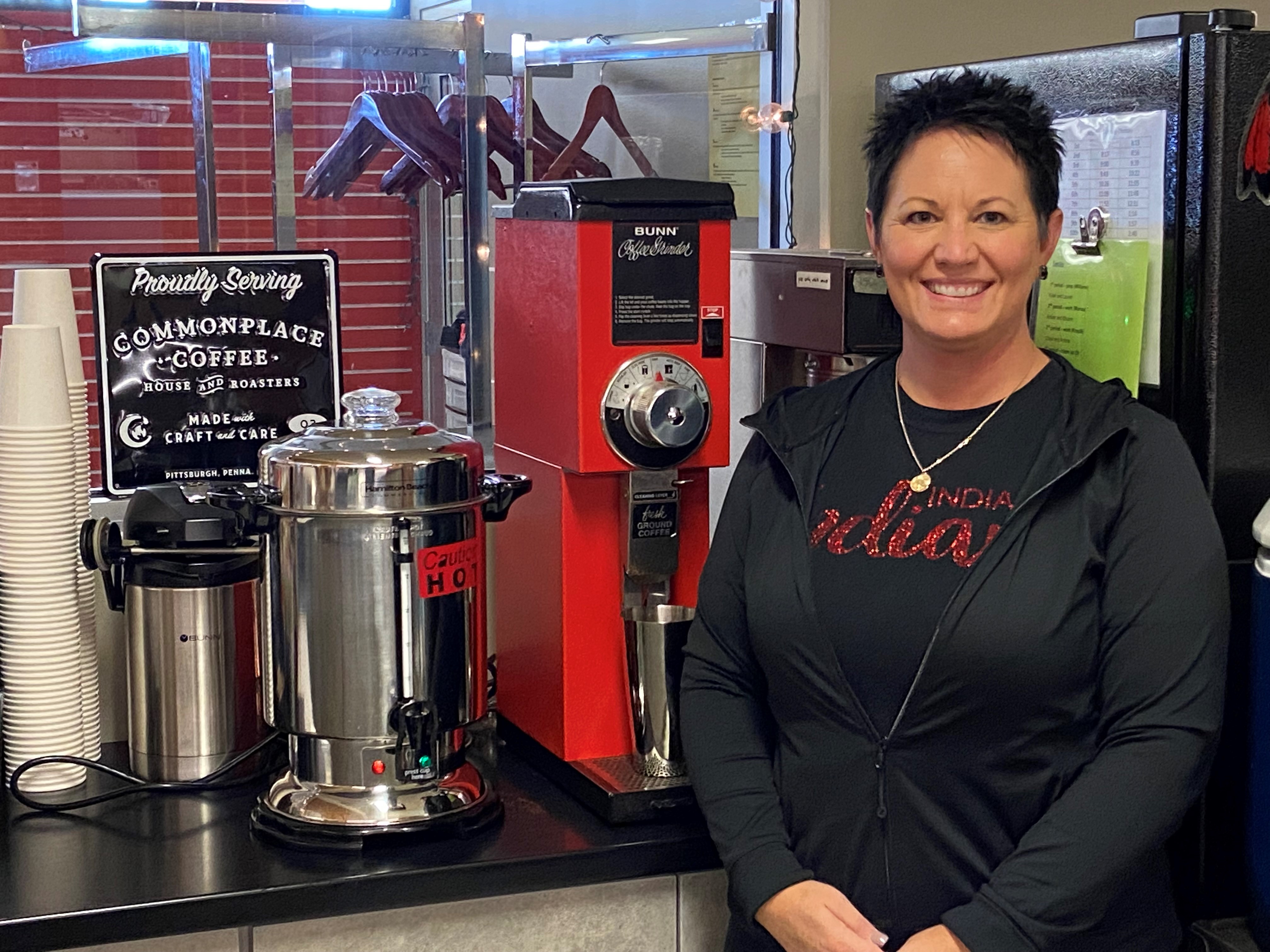 When students and staff at Indiana Area High School grab a cup of joe from the school's Commons Café coffee bar, they are served by students in the Life Skills Program, which offers specialized instruction for students with intellectual and developmental disabilities.
These students run the school's popular coffee shop with the goal of applying functional skills they learn in the classroom, said Lori Dadson, a Life Skills support teacher at the high school. Students go through a setup, serving and cleanup cycle twice each school day.
The café offers a unique opportunity for students with these disabilities to interact with their peers in a workplace setting, Dadson said.
"I have some students who really need to work on their social skills, and being in the coffee shop has really opened them up," she said. "It just really lets the kids know they are capable. They feel a part of the community, because a lot of times they feel so disconnected because of their disability. It's a lot of work, but it's so rewarding for them."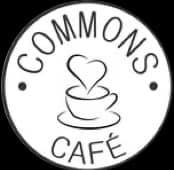 Since it opened in late 2018, Commons Café has served the basics: hot and cold coffee, hot chocolate and tea. But, says Dadson, customers often ask for more sophisticated drinks such as lattes, cappuccinos, macchiatos and espressos.
Now, with the help of TJ Fairchild, owner of Commonplace Coffee, the students have a chance to purchase a used, fully automated commercial coffee machine capable of making all of these drinks, and more. Dadson would also like to acquire a point-of-sale system to allow patrons to use credit and debit cards – another functional skill her students could learn.
Though the total price tag is $16,000, the class already has a great head start on the fundraising effort: Andy and Laurie Kuzneski, owners of Kuzneski Insurance Group in Indiana, have pledged to match any new money raised, up to $6,000. To date, Dadson said about $2,200 has been committed.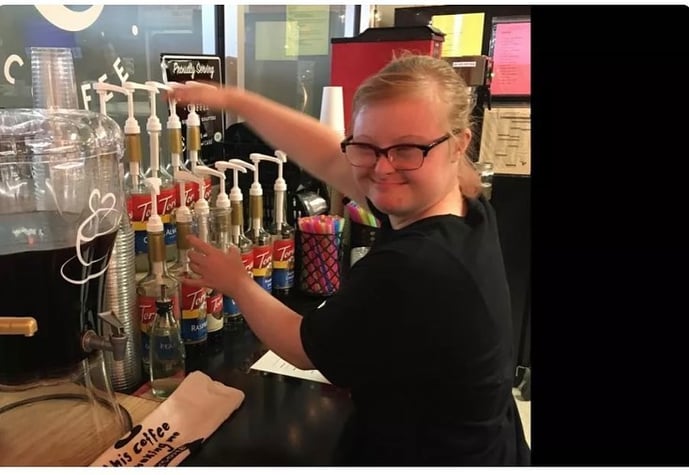 For the Kuzneskis, it's a win-win.
"It ticks all the boxes for us," said Laurie Kuzneski, Director of Business Development at KIG. "We love our coffee, we love helping our community, and we're big on helping people develop in their careers. That's part of our culture. So this, to me, is just a wonderful way to extend beyond our office all of those things that are important to us, and give that opportunity to the kids at Commons Café.
Coincidentally, Andy and Laurie are also big fans of Commonplace Coffee. 
"We've known TJ for a long time, and we've always tried to support his efforts because I think, culturally, he's very much like us. He wants to do good in the community, and he supports other businesses, and that's kind of in our hearts, too, so we have that in common. A lot of people in business might not be so inclined to help someone who is in the same business, but he is."
In fact, Fairchild helped get the coffee bar off the ground by donating equipment and educating Dadson about what supplies to purchase and how to make various drinks. And, of course, it serves exclusively Commonplace Coffee.
"I'm excited to support this," said Fairchild, who visits the café often. "I have a heart for the community and students. When I heard about it, it was just exactly what gets me excited. Here's a way we can add some value to their instruction. This next project is a natural next step with where the students are."
Fairchild said the machine (a Franke A600) is similar to what many fast-food chains are now using, so a Life Skills student would already be familiar with the technology.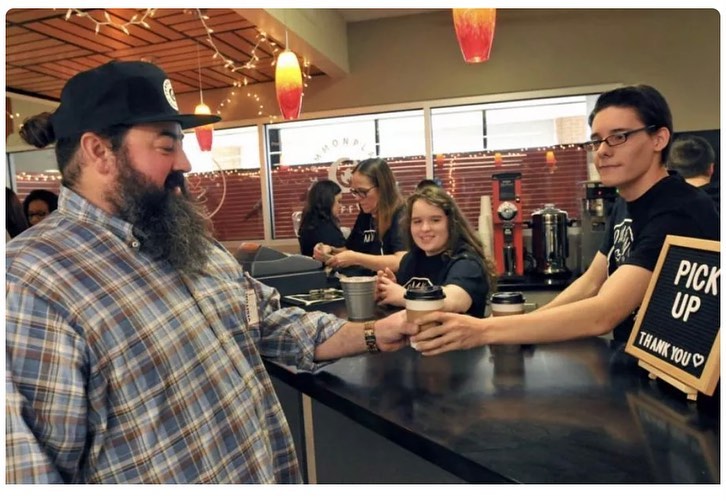 Commonplace Coffee opened in Indiana in 2003 and is now headquartered in Pittsburgh, with nine locations in western Pennsylvania.
Likewise, the high school's coffee bar has also been very successful, operating without any financial support from the school district, Dadson said. All proceeds are used to buy supplies for the coffee shop or for the Life Skills classroom. The money also helps to defray the cost of trips into the local community where students may learn to compare prices at grocery store or interact with wait staff at a restaurant.
"In the classroom, the students learn functional skills, so I teach them personal hygiene, cooking, cleaning, just basically any skill that they're going to need to live on their own. Independent life skills are a big component," she said. "We also teach them what it's like to go to work, how to interact with co-workers and staff members, things like that. So we prepare them for work after graduation also.
"Students with disabilities were always kept together. But in the last 10 or 12 years in education, we're including them more. We're making a push toward awareness that it's OK to be different. And I think this has really opened the eyes of a lot of people. Not only the students, but the staff members, with how capable they are, and looking beyond their disability," Dadson said.
"The kids in our school community have always been awesome with the kids in my classroom. They have always been the ones serving my students. And now it's my students serving them," she said. "And they see the Life Skills students as even more a part of the school community. It's a great experience for everyone."
If you'd like to donate, you can use PayPal or mail a check to IASD, with "Commons Café" in the memo line, 450 N. Fifth St., Indiana, PA 15701.
See a video about the origins of Common Café here.
Read how the community pitched in to make the project a reality here.