And the Winners Are … Kuzneskis Award $25,000 to KIC Finalists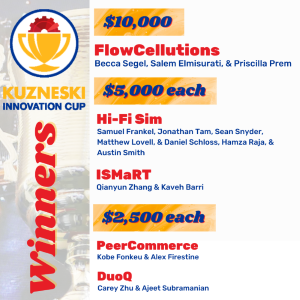 Five teams competed in the 2021 Kuzneski Innovation Cup, and all of them came away winners. Andy and Laurie Kuzneski, who have been hosting the pitch competition for six years now, decided to split the $25,000 prize money among all five teams.
"It's really tough to make these decisions. Everyone did a great job, and we were very impressed. You are all winners just getting to this point. And you should pursue this if you're truly passionate about your idea," Andy said.
"Passion is really important. We do look for passion when we invest in startup companies," Laurie said. "You all really made us care about your ideas, and that's really important. We want to do more than just write a check for a company we're investing in. I can't tell you how honored we are that you went through this program. On behalf of the Kuzneski family, we're really proud of you, and I know that Pitt is as well."
This year's virtual competition began with 19 teams, which were narrowed to seven teams, which pitched their ideas for a startup company. The Kuzneskis then chose five finalists to give a three-minute elevator pitch in the KIC Showcase on Nov. 12.
Andy and Laurie, who own Kuzneski Insurance Group, were joined as judges by investors Jeff McDaniel from Innovation Works and Illana Diamond from 412 Ventures. Stephan Mueller, an entrepreneur-in-residence and longtime friend of the Kuzneskis, also weighed in.
The event, held for the first time through Pitt's Big Idea Center, was moderated by the center's director, Rhonda Schuldt. "It's been wonderful working with these students all semester," she said. "Here you get a check, and you get people who are champions of what you do. This is a unique opportunity."
The Kuzneskis have a long history with the university. Andy's dad, Andy Kuzneski Jr., was a football player and sports booster at Pitt, "and he always claimed that his success in life was because he got to go to the University of Pittsburgh," Laurie said. Now, Andy and Laurie have a daughter who is on the verge of graduating from Pitt and another daughter who is a freshman there.
"The Kuzneski Innovation Cup was our way of giving back and supporting the University of Pittsburgh, and although neither of us went there, entrepreneurship and innovation is something that is near and dear to our hearts," she said. "We are entrepreneurs ourselves, and we love mentoring entrepreneurs, because you guys are exciting to be around!"
"We do want to say thank you to the Big Idea Center who took on the Kuzneski Innovation Cup this year, which is being done a little differently. We're grateful to Rhonda and her team for everything they have done."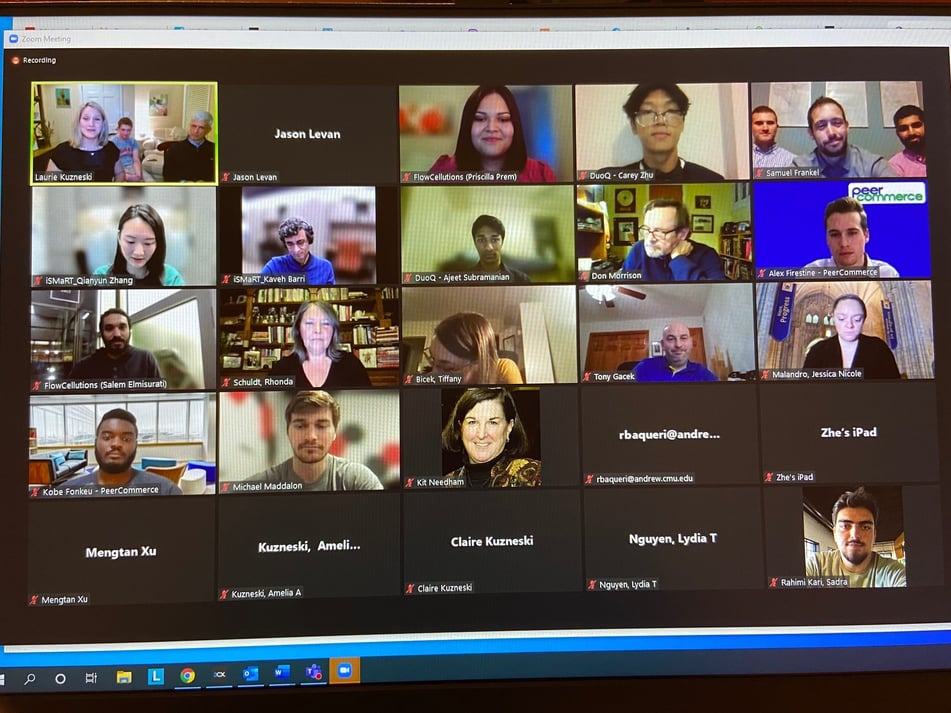 The finalists were:
FlowCellutions
($10,000)
Becca Segel, Salem Elmisurati and Priscilla Prem are developing a new type of battery tester. Today, lithium-ion batteries are used to power most electronics, medical equipment and even tools. But a battery with a different kind of chemistry, the redox flow battery, is coming onto the scene as a cheaper alternative because it uses water as the main ingredient. A research bottleneck has prevented this alternative from gaining any traction. FlowCell is working on a miniature battery tester that can save testing time and scale-testing capability.
"We love that you guys are going to do things that save the world," Laurie said. "What you're doing spoke volumes to us."
ISMaRT ($5,000)
Civil engineers Qianyun (Gloria) Zhang and Kaveh Barri are developing a way to make transportation safer by developing a way to imbed sensors into materials used in the construction of roads and bridges. ISMaRT's product, Ecosense, uses recycled plastics in reinforced rebar that could reduce the manufacturing cost and cut down on plastic waste, she says. They are even preparing to make a proposal to PennDOT.
"This is a fascinating idea. The world needs you and your product," Laurie said.
Hi-Fi Sims
($5,000)
A team of doctors in training -- Sam Frankel, Jonathan Tam, Sean Snuder, Matthew Lowel and Daniel Schloss – is looking to improve patient outcomes with more realistic medical simulations for doctors who perform all types of procedures. Currently, simulations used for continuing education are often unrealistic and don't always include hands-on training, they say. Hi-Fi Sims plans to set up a subscription-based model for their "sim boxes," containing a specific dummy body part and necessary tools to do the procedure. The sim boxes are mailed to a doctor, who can then get feedback from the simulation.
"We love that you're in med school and you're seeing things that need to be fixed," Laurie said. "I think that what you guys are doing is fantastic."
Peer Commerce
($2,500)
Pitt students Kobe Fonkeu and Alex Firestine aim to connect university students with regional business owners through a digital marketplace for "micro-internships," in which students would work for about six weeks on a project basis. Businesses would get help recruiting qualified students who are looking for exposure to real-world workplaces. Students are provided with real-world experience and networking with more flexibility and fewer barriers to employment.
"We think this is the future of hiring for industries like ours and many others," Laurie said.
DuoQ
($2,500)
Carey Zhu and Ajeet Subramanian envision an app they're calling "Tinder for gamers." Tapping into the fastest-growing entertainment market (video gaming), the app would pair gamers, or "Duo Buddies," based on shared interests, skill level, even availability. The app would be free, but a premium version would be sold on a subscription basis.
"Because of your passion, we think you're going to take this money and do something great. We want to see you guys succeed," Laurie said.