Seven Teams Compete in Kuzneski Innovation Cup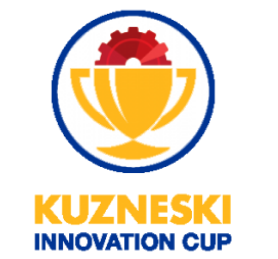 The sixth annual Kuzneski Innovation Cup featured a wide range of fascinating ideas from seven teams of entrepreneurial students at the University of Pittsburgh.
Andy and Laurie Kuzneski quizzed this year's contestants (virtually) on how they plan to make their ideas a reality, how they can improve the ideas, why they were so passionate about their projects, and what they would do with the $25,000 in prize money should they win the competition. (It was kind of like watching an episode of "Shark Tank," but with a more pleasant panel.)
After careful consideration, they narrowed these teams to a slate of final contestants who will compete for the money in the final showcase on Nov. 12.
But it's not all just about the Benjamins, Andy stressed. As angel investors themselves, the Kuzneskis started the annual Innovation Cup with a passion for investing in and nurturing entrepreneurs.
This year, the competition is being run through Pitt's Big Ideas Center, and many of the competitors' ideas are in their infancy stage. "It's really interacting with the entrepreneurs that gives you a better feel for their likelihood of success and their passion," Andy said.
These seven teams, which Andy and Laurie chose from a record 18 entries, had five minutes to present their ideas, followed by a Q&A.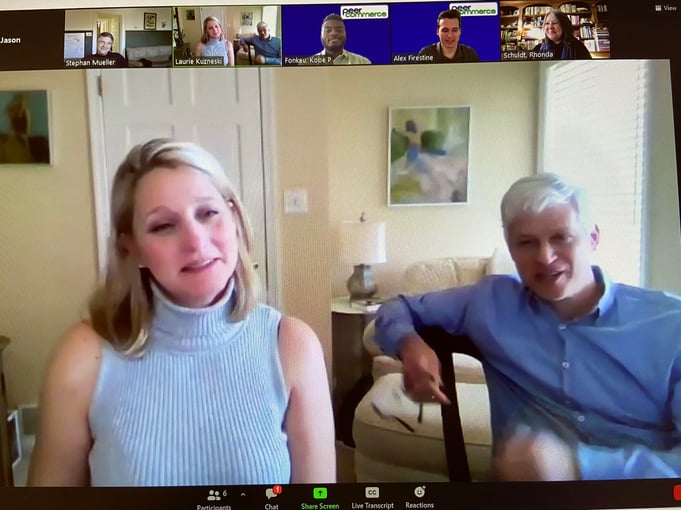 "I was very excited to see the number of teams that applied to be in the Cup," Laurie said. "It was difficult for us to narrow it down to the seven. But I feel like we saw a broad swath of ideas and expertise. In terms of narrowing things down, we each had some teams we were fighting for, but we've been doing this for so long, we finally came to a consensus. We really put some time into making this decision. And we really want to encourage all of the applicants to move forward in the process at the Big Idea Center to see if their ideas have merit."
Two other judges, Ilana Diamond and Jeff McDaniel, joined Andy and Laurie in hearing the presentations, which were moderated by Rhonda Schuldt, director of the Big Idea Center at Pitt. Stephan Mueller, an entrepreneur-in-residence, also weighed in.
"We chose the judges because of their knowledge of the ecosystem, and we appreciate their perspective. And we enjoy being in a room with them," Laurie said.
The contestants, in no particular order, were:
Peer Commerce
Pitt students Kobe Fonkeu and Alex Firestine aim to connect university students with regional business owners through a digital marketplace for "micro-internships," in which students would work for about six weeks on a project basis without the expectation of it leading to a full-time hire. Businesses would get help recruiting qualified students who are looking for exposure to real-world workplaces. Peer Commerce charges a fee for the service. So far, projects have centered on marketing, web design, data analytics and financial research.
Studies show micro-internships diversify employee pipelines, reduce employee attrition, form relationships with young talent and limit costs for HR and payroll, Kobe said. For students, they provide real-world experience and networking with more flexibility and fewer barriers to employment, he said.
K-Sense
Aspiring emergency medical physicians Sabrina Carrozzi and Ayesha Firdous have come up with a way to integrate glucose detection into a ketone meter for diabetics. Diabetic ketoacidosis, or DKA, a serious complication of diabetes, affects roughly 200,000 people annually and can result in a costly hospital stay. They intend to seek FDA approval for their product, which involves building a glucose detection component into a patented prototype of an at-home, reusable breathalyzer device to help reduce DKA emergencies. Current such devices are not FDA-approved for diabetics and only detect ketone and acetone levels, Ayesha said.
And because health equity is an important issue to them, Sabrina and Ayesha intend to donate some of the products to people who are uninsured. "Lack of health care coverage is the number one risk factor for developing DKA. It's a cause that's close to our hearts, Ayesha says.
ISMaRT
Civil engineers Qianyun (Gloria) Zhang and Kaveh Barri are developing a way to make transportation safer by developing a way to imbed sensors into materials used in the construction of roads and bridges. Current external sensors are expensive, have a short lifespan and require antennas, Gloria says. ISMaRT's product, Ecosense, uses recycled plastics in the reinforced rebar that could reduce the manufacturing cost by 25 percent and cut down on plastic waste, she says. Further, it communicates wirelessly, requiring no antennas. The team is even preparing to make a proposal to PennDOT.
STAT-B
STAT-B has a provisional patent for a type of brace that is specifically designed for people with Achilles' tendonitis, a common overuse injury among athletes. Students Sneha Jeevan, Jack Latella and Samil Paul came up with the idea after talking to physical therapists who say that current options for orthopedic braces are not sufficient -- they can be bulky and provide insufficient support. The STAT-B brace is a stepped-tension mechanism that allows for customized treatment of an AT injury, designated by red, yellow and green levels. They hope to market the product to hospitals, PTs and patients themselves.
FlowCell
Becca Segel, Salem Elmisurati and Priscilla Prem are developing a new type of battery tester with the health of the climate in mind. Today, lithium-ion batteries are used to power the vast majority of electronics, medical equipment and even tools.
But a battery with a different kind of chemistry, the redox flow battery, is coming onto the scene as a cheaper alternative because it uses water as the main ingredient. Nerd alert: "Redox" refers to "chemical reduction" and "oxidation reactions."
But a research bottleneck has prevented this alternative from gaining any traction. "No technology exists to develop redox flow battery materials at a large-enough scale to match energy needs," Becca said.
That's where FlowCell comes in: It's a miniature battery tester that can save testing time and scale-testing capability. "It consists of pluggable battery units about the size of a credit card and software to perform battery testing," Salem said. This makes testing 10 times faster, allowing researchers to more efficiency collect data, with the goal of reducing the research bottleneck.
Their target market is academic research labs and startup R&D departments.
Hi-Fi Sims
A team of medical professionals -- Sam Frankel, Jonathan Tam, Sean Snuder, Matthew Lowel and Daniel Schloss – is looking to improve patient outcomes with more realistic medical simulations for doctors who perform all types of procedures. Currently, simulations used for continuing education are often unrealistic, they say. Hi-Fi Sims plans to set up a subscription-based model for their "sim boxes," containing a specific dummy body part and necessary tools to do the procedure. The sim boxes are mailed to a doctor, who can then get feedback from the simulation.
DuoQ
With the day's most enthusiastic presentation, Carey Zhu and Ajeet Subramanian envision an app they're calling "Tinder for gamers." Tapping into the fastest-growing entertainment market (video gaming), the app would pair gamers, or "Duo Buddies," based on shared interests, skill level, even availability. The app would be free, but a premium version would be sold on a subscription basis.
"Playing a game with a friend is so much better than playing by yourself," Carey says.
We can't wait to see the final contestants in the showcase competing for a share of $25,000 on Nov. 12!