Randall Family Big Idea Competition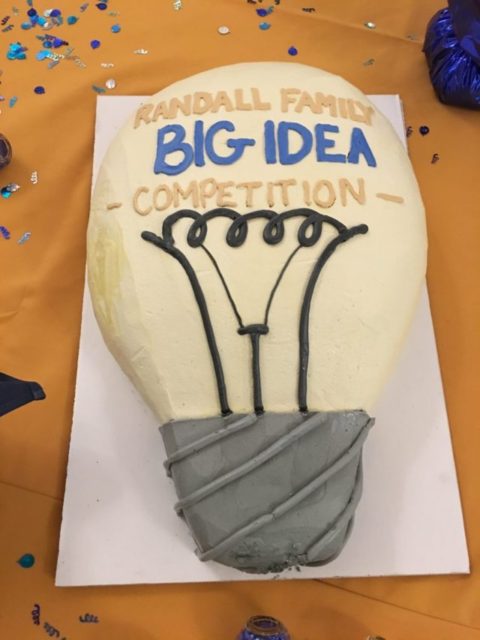 Kuzneski Group president, Andy Kuzneski, was a judge yesterday at the Randall Family Big Idea Competition at the University of Pittsburgh. Put on by the Innovation Institute Big Idea Competition awards $100,000 in cash prizes to interdisciplinary student teams from across the University.
Teams consist of students from freshmen to postdocs and almost of all Pitt's 16 schools were represented by student participants. The competition consists of three rounds. In the first round 65 teams - 195 students - participated in the Randall Big Idea Boot Camp. Big Idea 2, the semifinal round, was made up of 55 teams. Thirty five teams competed in Big Idea 3, the final round, which was judged yesterday.
After a day of pitches, questions, videos, deliberation, and a people's choice vote for best video, students, sponsors, judges and supporters of the ecosystem converged on the Connolly Ballroom in Alumni Hall for food, drinks, and meet and greets with the entrepreneurs. The showcase - which was standing room only - began with jokes by Jesse Irwin, speeches from Chancellor Gallagher and Randall-family patriarch, Bob Randall, and was followed by innovative banter between Babs Carryer, the Director of Education and Outreach at the Innovation Institute, and Rock Star Noah Snyder, CEO of Interphase Materials.
The keynote address - after some technical difficulty - included some funny stories of pitch competitions of the past and advice for the entrepreneur of the future, was given by Jason Putorti, a 2002 Pitt grad and venture designer at AngleList from Silicon Valley.
The presentation of the BIG CHECKS was made by Chancellor Gallagher, Bob Randall and sponsor, Susie Shipley. The winners were as follows:
Fourth Place: EnduroTracker
Third Place: Travel Roots
Second Place: Airborne Laser
Grand Prize: MediCase
Congratulations to Babs Carryer, everyone at the Innovation Institute, and to all the students who participated!
Two take-aways from the night:
Make sure your computer isn't going to auto-update in the middle of your presentation; and
Innovation and the Ideas are BIG at Pitt