4th Annual Kuzneski Innovation Cup Competition Held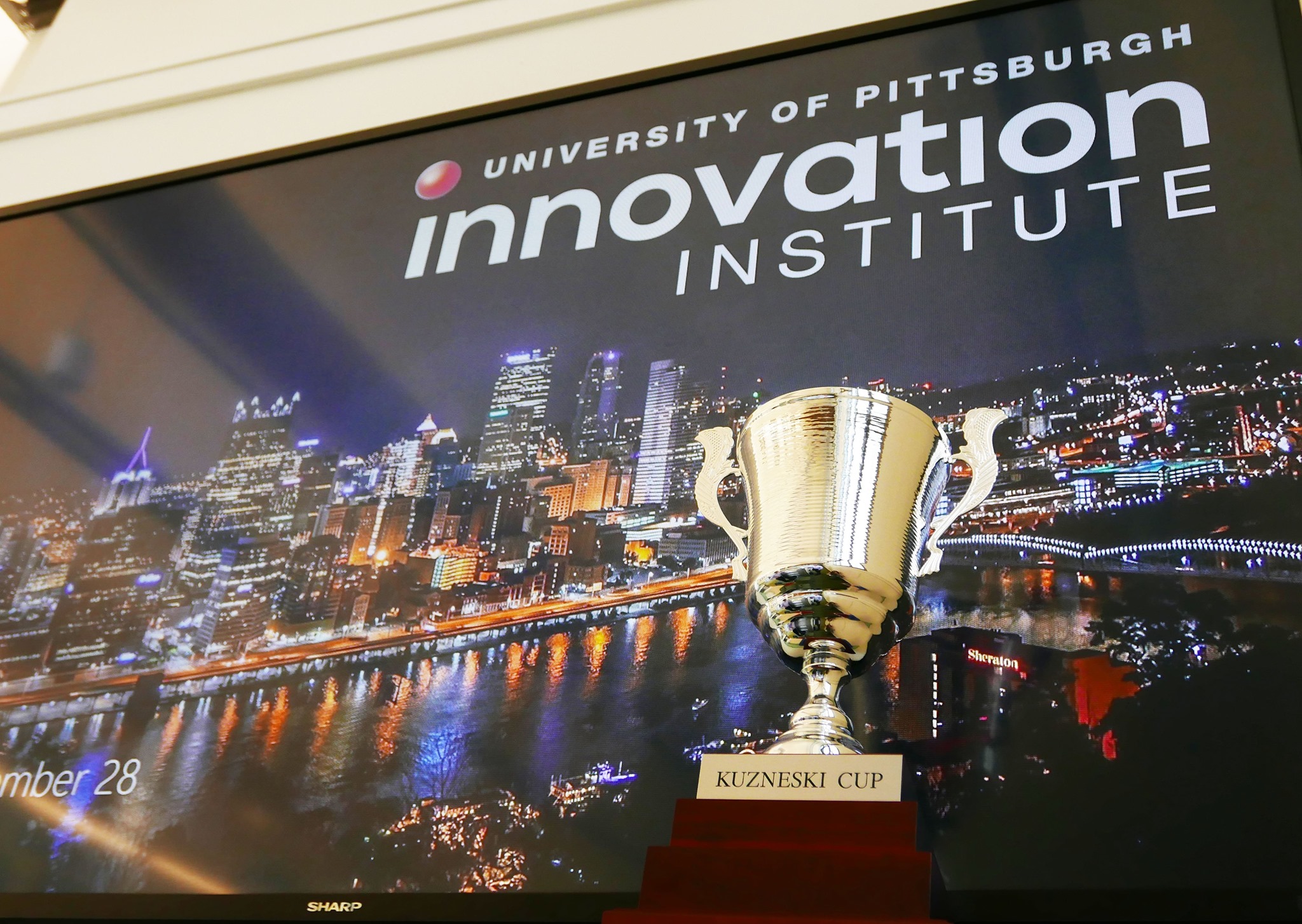 Six students pitched their companies to a panel of as many judges on Wednesday, October 16th at the Wyndham Hotel on the University of Pittsburgh Campus in Oakland. Students were undergrads, MBA candidates, and medical and dental students who all were working with a faculty member from Pitt.
Each team worked with mentors and Entrepreneurs in Residence at the Innovation Institute and went through rigorous training to define their business model and refine their pitch. I spent a Saturday morning teaching a class on storytelling to this group of would-be entrepreneurs and then coached them on their elevator pitches. I was blown away at how far they had come and how polished their pitches were in the few weeks since that class.
The companies who pitched were VTEM: Virtual Transmission Electron Microscope - This product is a learning and practice aid that provides an interactive virtual reality microscope that replicates the functionality of a real microscope. Unlike conventional onsite on-microscope training or grossly simplified toy simulators, VTEM is a full-featured, responsive training tool accessible by anyone anywhere in the world, at a fraction of the cost of traditional training.
RECOIL - uses theater to offer a safe space for students with differing points of view to come together and learn from each other. This program offers a curriculum for high school- and college-aged students and aims to teach empathy, understanding an conflict resolution.
SmartLevel Pro - automates the process of leveling IV-pole mounted pressure transducers with the heart and guarantees accurate measurements. It is compatible with current ICUs and aims to eliminate the time and labor-intensive processes of manual leveling.
Winning 3rd Place and $5,000 was Bagpipe Valve Bag Mask - created by Dental student, Travis Fernald, the Bagpipe was designed to make administering CPR require only 2 people versus 3. Unlike the typical manual resuscitation bag, the Bagpipe bag has an extendable neck and contoured bag which allow a user to ventilate a patient with pumps from their arms and legs, freeing up both hands to secure the face mask and provide a life-saving airway opening.
2nd Place and $&,500 went to Patient Experience Navigator App (PENY) - a rating and reviewing app that gathers and curates inpatient experience data and analytics in real time while the patient is still under care. Unlike Hospital Consumer Assessment of Healthcare Provider systems surveys, which only gather information after the patient is discharged, PENY allows service providers to adjust care to better help patients, improve patient outcomes and experiences, and recoup expenses. PENY was pitched by Med student, Eva Roy.
Winning 1st place, $15,000 and the coveted Kuzneski Cup, was PLASTIC: Pressure and Location-based Acoustic Sensing Touch Interface using Classification - PLASTIC can turn any firm surface into a touch screen. For touchscreen manufacturers who are looking to deliver fundamentally superior products, PLASTIC is more durable, more versatile, and can be produced at a lower cost. Unlike traditional capacitive and resistive touch screen products, PLASTIC can be used on a multitude of surfaces. Think your coffee table, a plane white board or a cell phone screen that doesn't break every time you drop your phone!
In the prior three years of the Kuzneski Cup, we have seen 18 unique companies pitch. Five of those companies have spun out of the university and have gone on to raise over $500,000 in additional funding.
And and I would like to thank the innovation Institute at the University of Pittsburgh and our judges, Mike Matesik, Stephan Mueller, Jeffrey McDaniel and Ilana Diamond. Their insight is invaluable and their willingness to help these student entrepreneurs move forward is exciting to watch.